1 thru 10 of 6814 Stories
Cannabis companies are using a loophole in Colorado's strict limits on marijuana advertising by sponsoring state highways and putting their names on roadside signs.
President Donald Trump's $1.5 billion proposal to prop up the country's nuclear fuel industry has emboldened at least one company to take steps toward boosting operations at dormant uranium mines.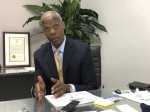 Former U.S. Rep. J.C. Watts was beaming like a proud parent as he talked about the launch of Black News Channel — a project he's worked on for years.
None of these are legit, even though they were shared widely on social media. The Associated Press checked them out. Here are the real facts.
Three officials with a Philippines-based church in Los Angeles have been charged as part of an alleged scheme to trick followers into becoming fundraisers and arrange sham marriages to keep them in the U.S.
The recent battle over a Cirque du Soleil show coming to Provincetown this summer ended with the entertainment giant pulling back from bringing a show in the summer resort.
American Airlines and Alaska Airlines say they will cooperate more closely on West Coast service, including new American flights from Seattle to India's technology hub in Bangalore.
An undercover video recorded by animal welfare activists shows vendors at a recent trophy-hunting convention promoting trips to shoot captive-bred lions in Africa.
A long stalemate over the future independence of Warsaw's landmark Jewish history museum is building toward a crucial turning point.
Renting clothes could be the future of fashion — or it could just be a fad. But traditional retailers can no longer afford to wait on the sidelines to find out.
1 thru 10 of 6814 Stories