1 thru 10 of 5059 Stories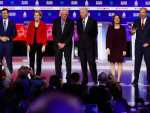 CBS News faced an ill-timed blow to its reputation on Wednesday following a bruising Democratic presidential debate that its moderators struggled to keep from spiraling out of control, although it could take some comfort in the numbers.
The anti-LGBTQ group One Million Moms is the latest organization of conservatives taking issue with Billy Porter's "Sesame Street" appearance in which he wear's his fabulous Oscars gown.
Producer Ryan Murphy took to Instagram Wednesday to reveal the cast for "American Horror Story" Season 10, which includes a number of familiar faces as well as some newcomers like Macaulay Culkin.
Ryan Murphy's upcoming limited Netflix series about the late fashion designer Halston has cast the show's Liza Minnelli.
Disney+ is no longer hosting the upcoming "Love, Simon" spinoff, but Hulu is opening its doors to "Love, Victor," and it looks like a second season of the gay comedy series may already be in the works.
MSNBC's Chris Matthews apologized Monday to Bernie Sanders for comparing the Democratic senator's win in the Nevada caucus to the Nazi takeover of France.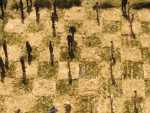 The museum of the Nazi German Auschwitz death camp is objecting to a scene in a new Amazon TV series that shows a murderous game of human chess being played there, insisting that no such thing took place at the camp.
WarnerMedia's new streaming service will debut with some extra "Friends."
Ryan Murphy's next Netflix show "Hollywood," will be here sooner than you think.
"Black in Space: Breaking the Color Barrier," scheduled to air Monday on the Smithsonian Channel, examines the race to get black astronauts into the heavens while fighting for human rights on earth.
1 thru 10 of 5059 Stories