Top Story
Out singer-songwriter Tom Goss details his new album, "Territories," on a track-by-track basis in a new interview that delves deep.
1 thru 10 of 2013 Stories
The Gold Dust Orphans are back with their annual Christmas Show, running December 5 through 22. This year's offering, "Christmas in Uranus," will be performed in a new performing space for the troupe in South Boston.
David Byrne brings his album "American Utopia" to life in a dynamic, theatrical setting with an unencumbered band taking the stage.
Disney+ heralds the new age of the digital streaming service dominance with original content that is engaging, emotional and worthy of an "Encore!" From Kristen Bell, this new reality based series is a real show stopper!
"RPDR's" Miss Congeniality Nina West hosts 'A Drag Queen Christmas — The Naughty Tour,' which tours to 33 cities starting November 19. EDGE spoke to West about the tour, featuring Shuga, Roxxxy, Latrice, Thorgy, Manila and Lady Bunny (amongst others).
Cirque du Soleil is exercising its literary chops with its latest touring show, "Amaluna," which is now mixing death-defying grace with Shakespeare at Oracle Park.
To inaugurate its brand new digital subscriber-based platform, Disney resuscitates one of its most popular franchises and casts a whole new generation of hopefuls.
There's a great pedigree here, but it all goes down a little too generically to have lasting impact.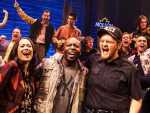 It is easy to see why "Come From Away" has become such an audience favorite; though it triggers haunting memories, it does so with charming folksiness, humor and theatrical smarts.
Following its Tony-nominated hit Broadway run seen by tens of thousands, Tony Award-winner John Leguizamo's one-man play "Latin History for Morons" will play Boston's historic Emerson Colonial Theatre on Thursday, November 7 and Friday, November 8, 2019.
'La vie boheme' are back, but showing their age.
1 thru 10 of 2013 Stories