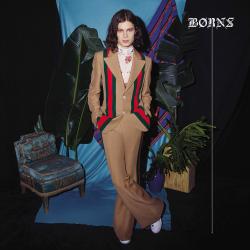 Platinum-selling Interscope recording artist BØRNS released his highly anticipated sophomore album "Blue Madonna" - available now on all digital platforms. The highly anticipated full-length features fan favorites - "Faded Heart," "Sweet Dreams," "I Don't Want U Back," and "God Save Our Young Blood feat. Lana Del Rey."

On the album-opening "God Save Our Young Blood," Blue Madonna brings that symphonic grandeur to a delicately sprawling anthem driven by BØRNS's ethereal vocal work. With its plush beats and sunlit harmonies, the track unfolds in lyrics both enchanted and unnerving ("Baptized in blue skies/Roll the window down, reach out/Feel around for new life"). "I'd been looking at these different translations of the story of the Garden of Eden," says BØRNS, "and I was thinking about the idea of how we kind of kicked ourselves out of paradise, and how that relates to the current state of humanity and the earth. The song is like a plea to nature or to love: the thing that's going to bring us together, but also eventually destroy us."

Throughout Blue Madonna, BØRNS endlessly shows his supreme ability to take his infatuations in exhilarating directions. Equally influenced by glam rock, doo-wop, and Detroit proto-punk, lead single "Faded Heart" matches its massive hooks and throbbing tempo with flashes of dreamy sleaze ("You and the suede backseat is all I'll ever need"). On "I Don't Want U Back," BØRNS conjures a hazy synth-pop luster with the help of a vintage Omnichord, and again proves the agility of his imagination. "A while back I found some sexy magazines from the '80s, and the advertisements were so hilarious and amazing," he says. "There was one thing that stuck out to me, a sound system for your car called the Sparkomatic, so I decided to write a Prince-esque song around that. It ended up becoming a breakup song where I figure out that my lover's sneaking around after hearing the other guy's Sparkomatic through the walls at 4 a.m.-that's how good that sound system is."

At turns triumphant and heart-crushing, the synth-heavy "Sweet Dreams" had more earthly origins. "The foundation of that song was something I'd recorded on my phone in Michigan, a sample of an owl and all these crickets outside at night," says BØRNS. "The sample was sort of haunting and it put the song in a particular atmosphere, so 'Sweet Dreams' came out of that."

Blue Madonna was produced by Tommy English.

Full track listing is below:

1. God Save Our Young Blood feat. Lana Del Rey
2. Faded Heart
3. Sweet Dreams
4. We Don't Care
5. Man
6. Iceberg
7. Second Night of Summer
8. I Don't Want U Back
9. Tension (Interlude)
10. Supernatural
11. Blue Madonna
12. Bye-bye Darling

Garrett Borns was living in a secluded tree house in the Los Angeles canyons when he wrote his debut album Dopamine. The album was released in the fall of 2015 to rave reviews with the Associated Press calling it "some of the most heartfelt electronic-based music in recent memory," while Spin noted that BØRNS "writes brilliant pop songs that worm their way into your heart in an instant." The LP featured the platinum selling single "Electric Love" and showcased his yearning falsetto. Since the release of Dopamine, BØRNS has performed at numerous festivals including Coachella, Lollapalooza, Hangout, Sasquatch and Bonnaroo and completely sold out his headline theater tour in the spring of 2016.

Tickets are currently on sale for BØRNS' 2018 North American headline tour with a handful of dates already sold-out. The 2018 headline tour follows a run of sold-out intimate club dates in select cities this fall where Borns treated his fans to songs from his debut album Dopamine as well as new material from Blue Madonna. For more information on tour dates and to purchase tickets visit https://www.bornsmusic.com/tour.

Enter to win!

Thanks for visiting EDGE!

Enter this contest
If you already have an account with EDGE, all you need to do is log in; we'll pull your address information from your account and simply ask you to verify it. If you do not yet have an account with us, register now! It's easy and free, and you'll never have to type in your personal information again. If you prefer to enter this information manually, you can use the manual entry link below.
Register
Manual Entry
Click here for contest rules.
* Please be aware that creating multiple accounts for the same person will disqualify you.