A "straight pride" parade and counter-demonstration went off in Boston Saturday without any major conflicts reported between the two groups.
The happy faces behind Super Happy Fun America aren't all that much fun and are pretty nasty to LGBTQ people.
Northern California city Modesto is one of the cities which may play host to a Straight Pride Parade... despite denying the group a permit. Organizers for the event attempted earlier this week to get a parade permit from city hall, but were refused.
A Northern California city has denied a request to hold a so-called Straight Pride rally at a park.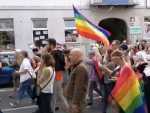 LGBT activists held a central Polish city's first pride parade without incident Saturday amid a deep divide in the country over gay and lesbian rights.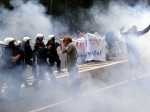 LGBT activists and counter-protesters are gathering in a central Polish city holding its first ever pride parade amid a deep divide in the country over LGBT rights.
A local business in Homewood, AL, received a threatening letter due to flying a rainbow Pride flag, and has since received an outpouring of support from community members, including a nearby Presbyterian Church.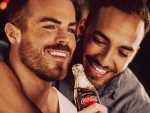 Coca-Cola has sparked furor from Hungarian lawmakers in the Fidesz party for an ad campaign, #Loveislove, featuring pictures of homosexual and heterosexual couples on posters around the country.
When it comes to heads of state you'd like to have a beer with, Canada's Prime Minister has shown he drinks with equality.
Poland's opposition left-wing parties have staged a rally against violence in the eastern city of Bialystok where a LGBT rights march was attacked last week by far-right groups.