1 thru 10 of 1683 Stories
Saturday night in Chicago was a fun time at Hamburger Mary's and Mary's Attic with drag, dancing, cold drinks, and great friends.
The 21st Annual Glam Awards celebrates the best of New York City Nightlife, it is also an incredible display of creativity, talent and camaraderie.
HustlaBall Las Vegas was held over MLK weekend with many events including the Real World Suite Party at the Hard Rock Hotel and the main event Kamasutra at the Artisan Boutique Hotel.
The hottest Porn stars came out to the Hard Rock Hotel and Casino for this year's GayVN Awards. Awards included the hottest body, social media influencer, and best daddy, just to name a few.
Las Vegas hosted the Sin City Classic over MLK weekend. Over 8,000 athletes came from around the United States to compete in twenty-four different sports throughout Las Vegas. A great time was had enjoying sports during the day and partying at night.
Evangelist Franklin Graham, who has condemned gays and lesbians as sinners, tried to bring his anti-LGBT beliefs to Key West. He was met with around 150 protesters who support the LGBT community and welcome them with open arms.
ManyVids presented a weekend with a Str8UpGayPorn Summit at the Hollywood W Hotel and awards at Avalon with host Kathy Griffin. The events were in association with Flirt4free, OribitalPay and Men.com.
The Alley Bar in Boston held it's first FUZZ event of the New Year, generating a turn-away crowd. See who came out to party with DJ Taffy and celebrate the great Kylie Minogue.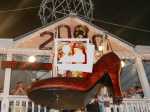 Times Square may have the ball drop, but only in Key West do they hold the annual New Year's Eve High Heel Shoe Drop! Sushi climbs into her red high heel to help the crowd ring in the new year.
The rain stopped just in time in Boston's Back Bay on Saturday and the weather was mild - perfect weather for the 20th Santa Speedo Run. See who was at the starting line.
1 thru 10 of 1683 Stories