Gay Hudson Valley: The Latest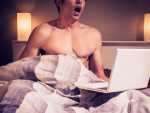 You might think that using "incognito" mode is a good way to secure a little privacy while seeing what's new in porn online, but that's not necessarily the case, a new study reveals.
Lawyers for Jussie Smollett on Friday filed motions contending that because the actor was the victim of an attack earlier this year in Chicago a judge should reverse his decision to appoint a special prosecutor.
The Indiana city where Democratic presidential candidate Pete Buttigieg is mayor is updating its police officers' body camera technology following the recent fatal police shooting of a black man.
Nearly 40 years after first forging their friendship while working together on the nighttime soap "Knots Landing," actresses Joan Van Ark, Michele Lee and Donna Mills are now more than just friends — they're a sister act.
Pam Grier's role as the owner of a hardware store in rural Nebraska in the ABC sitcom "Bless This Mess" isn't a complete departure for the film legend.
President Donald Trump has reversed his previous criticisms of a North Carolina campaign crowd that chanted "send her back" about a Somali-born congresswoman.
As her campaign bus trundled along Interstate 80 toward the Michigan-Ohio border, Kirsten Gillibrand was offering wedding planning advice to one of her presidential campaign staffers who recently got engaged.
Urged on by the first lady and celebrities including Kanye West and Kim Kardashian West, President Donald Trump said Friday he is trying to help free rapper A$AP Rocky, who has been held in police custody in Sweden for weeks.
How much do teachers and peers need to know about students' HIV-positive status? And what is the best way of managing their particular health needs at preschool level?
Party drugs like crystal meth, Special K, GHB and ecstasy are frequently combined for more intense or longer-lasting highs. Whether they're consumed together by design or accidentally, the results can be deadly.
Broadway legend Patti LuPone took to Twitter Thursday to call out Republican Sen. Lindsey Graham and his sexual orientation.

The mesmerizing journey of an undocumented trans girl in NY is the subject of this excellent movie produced by, and starring, over 50 members of the trans community.

Federal prosecutors in Manhattan have remained tight-lipped about their rationale for charging only Michael Cohen, Trump's former attorney and fixer, in a hush-money scandal in which they publicly implicated the president.
The Environmental Protection Agency rejected a key legal challenge Thursday to a pesticide linked to brain damage in children, saying environmental groups had failed to prove that a ban was warranted.

Here are four beach destinations where you could soak up the sun using points and miles.

BMW has named its top production manager, Oliver Zipse, as CEO to lead the luxury automaker through a shift to new ways of doing business such as electric vehicles and offering cars on a per-use basis.
Have you ever bought something just to feel that sudden rush of post-purchase happiness? According to new research, 66 percent of Americans have bought an item solely to feel the rush of buying something.
The numbers are staggering: An average yearly total of 107 opioid pills per resident were distributed over a seven-year period in this rural Appalachian county.
New Orleans may reign supreme as the South's go-to party destination, but its history, diversity of cultures, LGBTQ friendliness, and "lay-say le bon tom roo-lay" attitude keeps visitors coming back.
San Diego held its LGBTQ Pride celebration at Balboa Park with four stages and over 100 performers and community activists.